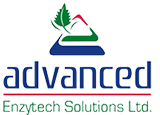 Advanced EnzyTech Solutions Limited
A leading provider of eco-safe solutions for industries like textiles, leather, paper, detergents & cleaning aids. Equipped with a dedicated research & development facility, Advanced EnzyTech Solutions aims to replace the traditional harsh chemical processes in these industries with newer, eco-friendly, yet cost-effective solutions using enzymes, micro-organisms and bio-degradable chemicals. Launched in 2008, Advanced EnzyTech Solutions is a wholly owned subsidiary of Advanced Enzyme Technologies Ltd.

About Advanced Enzyme Technologies Limited
Advanced Enzymes is a research driven company with global leadership in manufacturing of enzymes and probiotics. We are the largest Indian enzyme company engaged in the research and development, manufacturing and marketing of 400+ proprietary products developed from over 65 indigenous enzymes & probiotics.